As you may know 2003-2005 was the golden age of grime(apparently), Raves every other day, articles and artist's regularly popping up in your broadsheets and also overseas, DVD's, some of which had pretty much the same content but none the less you bought them all, and all the videos, compilations, and pretty much every bandwagon music journo saying it was gonna be the next big thing, etc.
Anyway fast forward to 2009, funky seems to be the new bandwagon, Bassline has sorta already come and gone(people realised garage was 10x better), and every one seems to think Grime is Dead. Ask your bredrin who used to spend all day shouting Wiley's lyrics, but now spends his days with the goons practising his synchronised skanks to are you gonna bang though. He knows.
It isn't dead btw. Not by a long shot. But anyway seeing as it's no longer cool, as a blogger and "music journo" you need to learn how to par it without actually knowing anything about it. I'm gonna give you some beginner tips that will get GF saying "dasapar" quicker than you can click publish post.
Lets get started:
1.Call Ironik a Grime artist.
This is pretty straight forward. No one with testicles like his music. Also no one with out testicles over the age of 19 likes his music. Therefore everytime you label him as an ambassador for the Grime scene, some Grime fans get quite emotional. The fact that the sweetboy wank music he makes doesnt resemble anything remotely like Grime is just a nice way to twist the knife. Oh yeah to further strengthen your par, you must reference and laugh at the song with Elton John.
2.Call Tinchy Stryder a hip hop rapper.
He has had 2 number ones, a few other chart hits, and has almost topped the album charts. Oh yeah he's also the top selling male Artist of 2009 in the UK. Cannot argue with that. Call him a sellout? Nah that's a school boy error. You will just get directed to the free ep's and songs he made available to his fans before the album dropped. All of the downloads were Grime. There's even Grime on the album. But the par here is easy. Ignorance. Call him a rapper, compare him to Giggs, and 50 cent, this par is pretty self explanatory.
3.Pointout the lack of grime raves.
Ignore Chockablock, Dirty Canvas, Rinse, the oneaway launch nights, Concerts, and all the other new club nights that have now popped up that are headlined by Grime artists. Instead ask why all the old raves aren't running anymore. This is the par of choice for most.
4.Violence at all grime raves.
"Woah I heard one guy stepped on one guys shoe, and then he pushed him, and then he apologised and the guy walked away." To be honest there's not really much trouble at Grime related raves, ask JP or the ravers on GF, I'm not saying all the trouble makers have gone to funky, just saying that Grime doesnt cause trouble. But if your reader isn't a fan of Grime, and has never been to a rave, they wouldnt even know. So you must carry on the tradition of this stereotype par.
5.Say theres no releases.
This par is quite tricky, you have to mention the most popular mixtapes and THEN say but theres no other releases. For example "Besides Skepta and Wiley's albums there was no grime released this year really". Just hope your reader has never heard of Earth 616, No hats no hoods, Eskibeat, BBK, GPP, Little Dee, P money, Revolver, Dollar the dustman, J2K, RSG'S, Goodz, Roll Deep Recordings, and a load of others(I gave up with the list). Cos um they sorta released or are about to release stuff.
6.Say there's no new talent
.
Everyones still looking at Wiley and Dizzee as the figure heads. Dizzee himself said he no longer makes Grime, and now he has 3 number ones under his belt. Also ignore the new talent like Axeman, Griminal, IceKid, Marvell, ScruFace, etc. And thats a 3 hit par combo, right there.
7.Say it lost it's hype
.
If you want to use this par. Then do not acknowledge Tempa T or it just wont work. He will literally par your par. Reference all the bait hip hop and stuff.
8.Say Wiley doesnt even show up for stuff.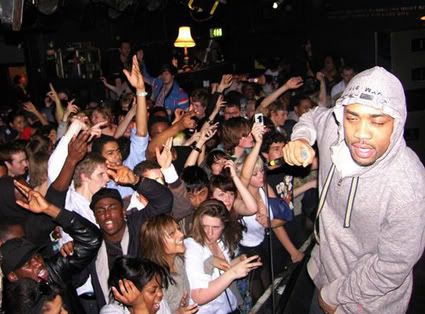 Well he usually doesnt, and he is the godfather of Grime.
9. Reference the Mobo's/Brits/and any other generic urban music award show.
They dont have a grime award, they dont want to give grime artists awards, they dont want to even acknowledge the fact that the majority of their newcomers stem from the Grime Scene. Ignore the fact that none of the award shows are actually credible anymore. It's a par. Partake in the par.
10. Pointout the fact that 1xtra see's no need for a 100% Grime show so it must be dead.
Here's a quick quote from DJ Magic.
"The remit of 1Xtra is to play the best in contemporary black music with a strong emphasis on live music and supporting new UK artists. The schedule should also offer a bespoke news service, regular discussion programmes and specially commissioned documentaries relevant to the young target audience (15–24 year olds), particularly – although not exclusively – those from ethnic minorities."
Yup. We pay the license fees, yet the station that states "love black music love 1xtra" does not have a fully Grime show. "the best in contemporary black music with a strong emphasis on live music and supporting new UK artists." Nah that doesnt sound like Grime at all...
Dont mention Kiss 100, Logan Sama, and the fact his grime show gets a ridiculous amount of listeners every week, and this par will be the most powerful of all.